Soft-starting motor and soft deceleration device - SSAZ
| | |
| --- | --- |
| Fields of application: | Conveyor systems, packaging machines, fans, mixers, compressors |
| Power output: | 3.0 kW |
| Product: | Soft starting motor SSAZ |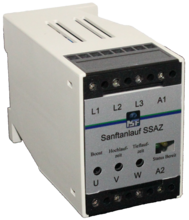 Product description
Applications which require both a ramp-up time as well as a deceleration time are realised with efficient soft-starting devices. The SSAZ is a two-phase controlled soft-starting device designed under the protection class IP20 to be attached to a 35 mm standard rail in the control cabinet.
Thanks to the terminal configuration suitable for switchgears, as well as the compact design the SAE fits into any type of control cabinet and is also suited for retrofit systems.
The ramp-up time, the deceleration time and the motor's initial torque can be adjusted separately. The adjustable potentiometers are located behind the removable front cover. If the maximum current becomes effective after the adjustable ramp-up time has elapsed, a relay contact will bridge both power semiconductors, so that the motor will be entirely driven by the main power supply. An input of the SSAZ which can be controlled externally initiates the deceleration phase if necessary and depending on the application. This brings the motor to a standstill at the predefined deceleration ramp.
Product inquiry
Do you have questions regarding this product or would you like personal consultation? We look forward to your inquiry.