Energy-Recovery-System (ERS)
| | |
| --- | --- |
| Fields of applications: | Lifting and lowering applications, conveyor- and intralogistics systems, stacker cranes, winding drives, linear drives |
| Braking power: | 5 kW peak power |
| Motors: | For servomotors and AC- motors |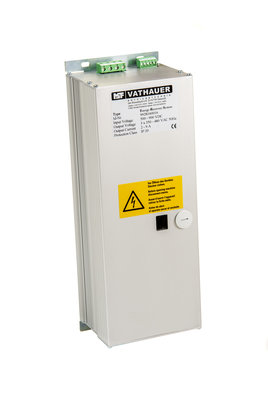 In your applications is there potential energy from lifting, lowering and braking movements converted by braking resistors into heat loss?

Take advantage of the potential energy with the Energy-Recovery-System!
With the installation of our Energy Recovery System (ERS), the regenerative power of your servo- or standard drive is no longer lost. The regenerative unit ERS serves as a centralised or decentralised feedback of energy via the connected frequency inverter to the system network
The ERS is suitable for both, new installations and for retrofitting of existing plants and is connected to all the frequency inverters with lead-out links.
The ERS is available in 2 types of protection, so the device is ideally suited to your local circumstances. The system marked IP20 is installed in the control cabinet. The ERS is also available in the IP54 version with slightly larger dimensions. This model can be freely installed in an industrial environment - a control cabinet is no longer necessary. The IP54-ERS is also splash-proof. The cables can be customized for customer-specific production.
Your benefits
Reduce energy costs: Because with the ERS, you reduce the overall energy consumption of your system.
No heating: No rising of the ambient temperature through the elimination of brake resistors; air-conditioning is unnecessary.
Save control cabinet space: The assembly of braking resistors in the control cabinet does not apply because the ERS can also be decentralized mounted in your application.
2 Protection types: The ERS is available in protection classes IP20 and IP54.
Retrofitting of existing installations: The ERS can be connected to existing frequency inverters
Product inquiry
Do you have questions regarding this product or would you like personal consultation? We look forward to your inquiry.