DC motor regulator
| | |
| --- | --- |
| Field of application: | Conveyor belts, Winder drives, Packaging machines |
| Power output: | 0.25kW |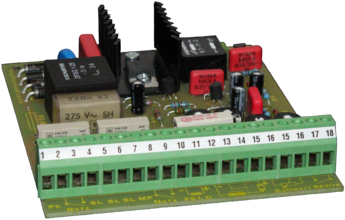 Product description
The MTR 201 IP00 is a compactly built DC regulator, which can be used both for permanent magnet-excited motors as well as for shunt motors. It is a regulator in circuit board version and can be built into control cabinets or other housings.

The MTR 201 features a 20-pole terminal strip. It enables a quick and safe installation of the connecting terminals. With the help of the jumper setting, it is possible to switch between two set-values by means of one contact.

This DC motor regulator is the ideal drive solution for easy transport belts and conveyor belts or winder drives.
As an option to the circuit board version, we can also deliver housing with protection class IP44 for decentralized machine assembly.


Product inquiry
Do you have questions regarding this product or would you like personal consultation? We look forward to your inquiry.