DC motor regulator
| | |
| --- | --- |
| Field of application: | Conveyor belts, Winder drives, Packaging machines |
| Power Output: | 1.5kW |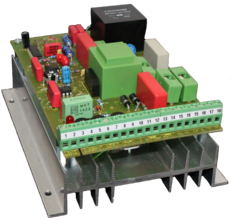 Product description
The MTR 204 IP00 offers you exactly those basic functions you need for reliable speed control of your DC motors. It is the ultimate drive solution for simple conveyor belts or winder drives with extended functions up to 1.5 kW continuous output.

This device is a compactly built DC motor regulator, which can be used both for permanent magnet-excited motors as well as for shunt motors. It is a device in circuit board version that can be built into control cabinets or other housing.

In the case of this DC motor regulator it is possible to have both an armature voltage regulation as well as a tachometer feedback. The set value setting is achieved by a potentiometer or control voltage. The protection of the motor and regulator is achieved by an integrated adjustable current limiter, which protects the regulator from overloading.

The MTR 204 IP00 is the ultimate drive solution for simple transport belts and conveyor belts or winder drives.
As an option to the circuit board version, we can also deliver housing with protection class IP44 for decentralized machine assembly.
Product inquiry
Do you have questions regarding this product or would you like personal consultation? We look forward to your inquiry.