Accessories for decentralized Motorstarters - ALU
| | |
| --- | --- |
| Fields of application: | Conveyor Technology, Intralogistics facilities, Transfer lines, Material transport in Production lines, Airport Logistics, Transport Logistics and Warehousing |
| Accessories: | Motor cable for decentralized Motorstarters - ALU |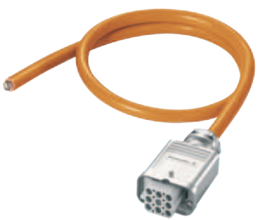 Product description
The motors of all decentralized motor starters or frequency inverters of the Field Drive Systems® are connected via DESINA compliant Q8 Plugs. The Q8 motor terminals are assembled according to the DESINA connection guidelines.
The motor wires can be supplied in two different lengths (3 m or 5 m). For the motor starters we use a non-shielded variant. The motor wires for the frequency inverter are supplied with EMV-Shielding and also contain –besides the terminal connectors for the motor– also the connections for PTC / PTO, as well as the connections for motor braking.
Optionally we can supply oil-resistant wires or Chainflex®-wires for the operation in Cable Drag chains.
Product inquiry
Do you have questions regarding this product or would you like personal consultation? We look forward to your inquiry.