Gearboxes - Aluminium & Stainless Steel
Hygienics Aluminium Wormgear Boxes
Gearboxes - Aluminium & Stainless Steel
Areas of application: Bakery applications, bottling plants, beverage industry, tobacco processing, conveyor systems, centrifuges, mixing plants
Motor power: 0.12kW - 4.0kW
Torque: Up to 347Nm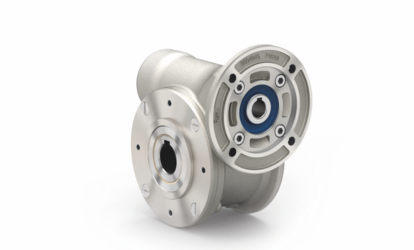 The Hygienics aluminum worm gear units of the Z-series are characterized by their smooth surface, high protection degree IP69K as well as the high permissible radial forces, finely stepped ratios and a compact design for space-optimized mounting. Furthermore, the torques are transmitted with low noise. For easy and safe machine integration, the worm gears have a standardized hollow shaft.

The Hygienics aluminum worm gears feature VITON 316 stainless steel sheath seals and NTT ™ surface treatment to ensure a smooth surface and corrosion resistance.

The output shafts and the optional mounting feet are made of stainless steel AISI 316L material.

Depending on the gear size, torques from 21Nm to 347Nm are transmitted.
Product inquiry
Do you have questions regarding this product or would you like personal consultation? We look forward to your inquiry.