Decentralized Motorstarter - ALU
| | |
| --- | --- |
| Fields of application: | Conveyor Technology, Intralogistics Facilities, Transfer Systems, Material transport in Production facilities, Airport logistics, Transport logistics and Central Warehouse |
| Power Output: | 0.75 kW per connected motor |
| Product: | Motorstarter DUO-SOFT-SWITCH - ALU |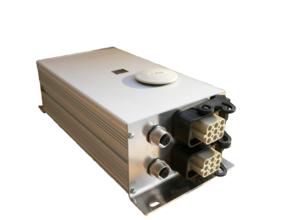 Product description
Brilliantly simple: the frequency inverter DUO-SOFT-SWITCH-ALU. This sturdy frequency inverter can be installed and integrated in virtually any position. It is a fully electronic motor starter which can be mounted on the machine carrier. Its slim and compact design, as well as the high protection class IP54 can be fitted in any conveyor system. In this way, even complex machine structures can be clearly designed.
This fully electronic motorstarter DUO-SOFT-SWITCH-ALU operates like a soft starter and softly switches two 3-phase asynchronous motor up to 0.75 kW on and off by means of adjustable acceleration and deceleration ramps. The two connected motors are controlled separately.
The acceleration and deceleration ramps, as well as the boost moment, will be adjusted separately for both motors by means of the trim potentiometer, which can be accessed from outside.
The connected motors can be monitored by means of a built-in PTC or PTO.
Due to the standardized DESINA-wiring, the built-in motor plugs help connect the DUO-SOFT-SWITCH-ALU to any motor.

The power supply can be carried out by means of different and energy-independent energy bus systems. For this we offer built-in cable terminals or AC plugs, so that the motor starter energy bus can be connected independently from the manufacturer.
The built-in M12 plugs ensure an easy connection of two sensors (i.e. photoelectric beams) for every motor, as well as the Bus communication.
Product inquiry
Do you have questions regarding this product or would you like personal consultation? We look forward to your inquiry.