Frequency inverter VECTOR 20
| | |
| --- | --- |
| Field of application: | Conveyor belts, chain conveyors, fans, pumps, extruders, roller belts, centrifugues, mixers and Metering pumps |
| Power Output: | 0.75KW to 3.0kW |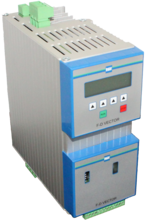 Product description
The VECTOR 20 is our compact and versatile 3-phase frequency inverter, which is characterized by its slim design and modular structure. It is ideal for use in control cabinets with a power output of 0.75 kW to 3.0kW.
Thanks to the standardized modular structure, the VECTOR 20 is easy to operate and expandable with additional functional modules (positioning module, field bus module, I/O modules). With its pre-set device parameters, this frequency inverter is immediately ready for use and efficiently solves tasks right from the beginning.
This model features all elements of MSF-Vathauer renowned expertise:
EMV-filter integration even in the smallest of spaces
Robustness thanks to aluminium housing
VECTOR regulation for precise positioning tasks
Various field bus communications
The VECTOR 20 is mounted inside a control cabinet. The sturdy Aluminum housing also serves as a cooling body and allows for a space-saving serial layout (in a row) of multiple devices. This way, topologies can be implemented in the smallest available spaces.

In centrifuges, extruders, pumps, or in conveyor systems, VECTOR 20 may be applied in the standard version. For any additional and special requirements, additional module are available to expand your frequency inverter.
Product inquiry
Do you have questions regarding this product or would you like personal consultation? We look forward to your inquiry.