Three-phase AC motors
| | |
| --- | --- |
| Fields of application: | Conveyor systems, Intralogistics Facilities, Drive systems, Winder drives, Pumps, Fans, Lifting drives, sectional and high-speed gates |
| Power output: | 0.06kW – 0.75kW |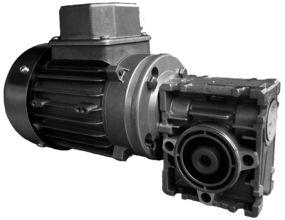 Product description Three-phase AC compact drive
This drive system has taken hold of the mechanical engineering world thanks to its compact and "Multi-Mounting" design.
The compact drive enables a large variety of drive configurations.
A maximum torque of 14 Nm can be reached with 9 possible gear reductions between
i = 7.5....60. Thanks to its aluminium housing, as well as the small model size for the motors (sizes 050 and 056), this drive unit is a truly lightweight, which is ideal for the application at small transport belts or conveyor systems.

As an option, the compact drive can also be delivered with mineral oil, synthetic oil, with food grade oil or with low-temperature oil.
Product inquiry
Do you have questions regarding this product or would you like personal consultation? We look forward to your inquiry.