Field Drive System® - Decentralized Drive Automation
| | |
| --- | --- |
| Fields of application: | Conveyor Technology, Intralogistics Facilities, Transfer Systems, Material transport in Production facilities, Airport logistics, Transport logistics and Central Warehouse |
| Power output: | 0.75 kW per Motor |
| Product: | Motorstarter DUO-SWITCH Field Drive System® |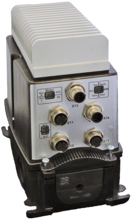 Product description
Minimum effort – Maximum gain: The decentralized Motormanagement System Field Drive System® is a reliable Intralogistics-Tool. The consistent integration of energy distribution along with state-of-the-art quick plug-in technology makes the set-up times substantially shorter, and helps saving the invested resources and reduces the investment costs of your conveyor system.

The energy distribution for 3x400 VAC takes place via the integrated energy distributor. Additional sensors can be attached to the equipment along with numerous bus communication modules. The signals are reported directly to the plant control centre at no additional cost and get processed from there onward.

The Motor-Directstarter DUO-SWITCH Field Drive System® finds its application particularly where two drives without change in RPM have to be switched on and off independently (as per application).
This starter is usually applied for directly switching on and off two separate three-phase AC asynchronous motors for turntables, corner conveyors, lifting applications etc.
Product inquiry
Do you have questions regarding this product or would you like personal consultation? We look forward to your inquiry.