Gears
| | |
| --- | --- |
| Fields of application: | Material Handling Technology, Intralogistics Facilities, Traction Drives, Winder drives, Pumps, Fans, Lifting drives, Stage drives and Theater drives |
| Power output: | 0.37kW – 4.0kW |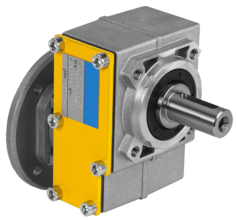 Product description Flat gear heads
The sturdy one-staged flat gear heads feature a slim design, as well as their finely tuned gear ratios. Due to the narrow design, the machines requires little installation space. Due to the totally hollow shaft and the high axle clearance, the flat gear heads can be directly integrated into the machine.
Thanks to the service-free concept, the long service life and the durably designed gearing, the cost-effectiveness and the efficiency are increased.
The helical gears can be supplied in the configurations B5 or B14, as well as in ATEX version with a corrosion protected surface and further options. Application-specific drive flanges or adapting flanges can be ordered as per customer wish.
In addition, helical gear units can also be supplied with mineral oil, synthetic oil or food grade oil.
Product inquiry
Do you have questions regarding this product or would you like personal consultation? We look forward to your inquiry.